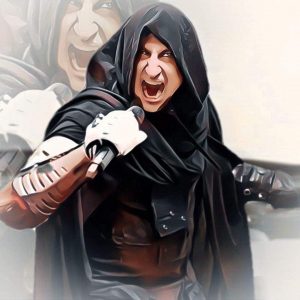 Join us for the Central PA Tattoo and Horror Expo, a thrilling event showcasing the best of tattoos and horror culture. Get ready for a weekend filled with spine-chilling fun, incredible tattoo artists, and a celebration of all things macabre. Prepare to immerse yourself in a world where tattoos and horror collide. Discover a diverse range of talented tattoo artists from across the country, ready to create stunning designs that will leave a lasting impression. Whether you're looking for a small, delicate piece or a full-sleeve masterpiece, our artists have you covered. Don't forget about daily tattoo contests.
But that's not all! The Central PA Tattoo and Horror Expo is not just about tattoos. Dive into the horror side of the event, where you'll find vendors showcasing creepy collectibles, horror-themed artwork, and spooky merchandise. Don't miss the opportunity to meet special guests from the horror industry, including actors, and other influential figures. Get up close and personal with your favorite horror icons and hear their stories in engaging panel discussions. Indulge your inner horror enthusiast and dress up in your most chilling costume for our costume contest. Show off your creativity and win fabulous prizes!
Experience the electrifying atmosphere of the Central PA Tattoo and Horror Expo, where tattoos and horror intertwine to create an unforgettable event. Mark your calendars and join us for a weekend filled with ink, scares, and unforgettable memories!
                   CASH ONLY AT THE DOOR               
              1 – DAY PASS    $20  (ages 12 +) 
   3 -DAY PASS   $50   
** Online advance ticket sales available NOW skip the line, buy online ** 
https://www.eventbrite.com/e/central-pa-tattoo-and-horror-expo-tickets-705616547087?utm-campaign=social&utm-content=attendeeshare&utm-medium=discovery&utm-term=listing&utm-source=cp&aff=ebdsshcopyurl
  Expo is open to ALL ages !! This is a family friendly event. Photo ID is required for entry. Wristbands are required for entry into Expo. Removed /lost wristband are subject to re-entry fee. NO outside food/drink permitted. Service animals ONLY.
EVERYDAY WILL BE FULL OF FUN / CONTESTS & ENTERTAINMENT
FRIDAY
           2:00pm Doors Open                                                        5:00pm TBA  
7:oopm   TBA
           8:00pm Tattoo Contests
10:00pm Event Closes 
ADULT ZOMBIE PAGENT CONTEST
ENTRY FEE $5
TOP PRIZE ONLY 
* COUPLES
 * SCARIEST       
* MOST ORIGINAL 
                SATURDAY                                                                                     11:00pm Doors Open                     2:00pm    TBA                            3:30pm  Booth Display                                    Contest                          4:30pm  TBA                                 6:30pm Adult ZOMBIE                          PAGENT                              8:00pm Tattoo Contest 
10:00pm Event Closes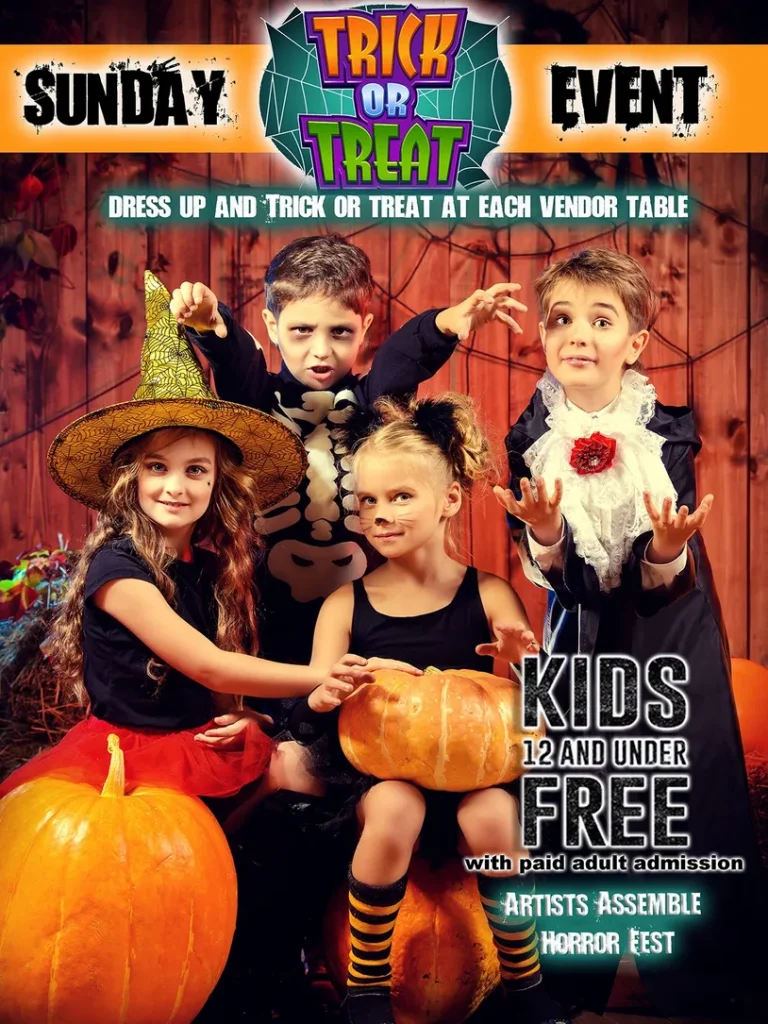 SUNDAY
      11:00pm Doors Open                          12:00pm -2:00pm                    Kids Halloween Party     3:00pm  TBA 
 4:00pm Tattoo Contest 
6:00 Event Closes 
SUNDAY KIDS DAY 
MUST PRE REGISTER OPEN TO KIDS AGES 5-12
12:00-2:00 pm
KIDS HALLOWEEN – crafts / games / snacks / Trick OR Treat parade /Halloween Costume Contest & Treat/Goodie bag
We have a few spooky guests lined up for the weekend. Come out and get an autograph and or a photo with our guest actor/actress from those horror films you love.  Autographs & Photos with the guest will have a charge. Additional opportunities with guest will be available for a fee.                                                                   
HALL OF ARTISTS / SHOPS & VENDORS
     We have hand picked some GREAT talent check out the line. These highly skilled artists specialize in a variety of tattooing styles and will book up fast so make sure you try and contact them ASAP.
How do i get a tattoo at the expo 
     Attend the show, check out artist portfolios,  speak with an artist in person. Walk up appointments are available or a designated time during the Expo. You can also find the artist on Facebook and Instagram to set up an appointment for during the Expo.
WELCOME to the show
Forest Nott XIA Tattoo dan pATRICK Tomahawk tattoo PINCH-N-POKE TATTO Twisted Mad Hatter Erik SacONY Jimmy Dalessi Queens gambiT tattoo army creepy jasoN JOSH DOES TATTOOS vivid skiN CAMP HILL COLLECTIVE INKED IN TATTOO CUSTOM TATTOO EXPERIENCE MODERN DAGgER provenia tattoO PINZ & NEEDLEZ TATTOO RAPTURE TATTOO EmporiuM @milopugadventures & hollis CaNtrell sIN NOMBRE TattoO iNtErnational body jEwElry LOVE AT FIRST BITE BOUTIQUE COUP DE GRAS TATTOO BIG BOB MCCARTY HANDCRAFTED BODY ART
                                                                                     VENDORS  
         SKULL ISLAND RELICS & TREASURES                        FORTRESS PUBLISHING         
                  RED DUKE GAMES LLC.                                        CRAZY CRAFT LADY jESS llC         
           j. ELKSTROM PHOTOGRAPHY                                             CREEPY DOLLZ 
                A.S DOG TREATS LLC                                                   BOTANTICAL THINGS
                         T MOBILE                                                                          HORROR GODS   
                    CAIYA COLLARS                                                  AT YOUR SERVICE MAID CAFE                                       
                  THE GREEN WITCH                                                       
HIVE HEAD STUDIOS                                         
         WRECKED COTTON CANDY                     

                   j. EkstroM photography 
           fEEliN CockEy distillERY                                              jENNy v crEations                                                       
                       mINDY K ARTS                                                                  URBANS EDGE                   
       GRACEFUL STRIDES MOBILE MASSGE                                3MPOWER WOMEN 
** CATEGORIES**
1st PLACE  &  RUNNERUP   TROPHIES ONLY 
 FRIDAY
                              Color    Black & Gray    Neo Traditional       Geometric Style                                Horror Theme (1st )     Tattoo of the Day (1st) (fresh only)
SATURDAY
Color (Small)  Color (Large) 8 X 8 or large
Black & Gray (Small)  Black & Gray (Large) 8 X 8 or larger     
  Arm / Leg Sleeve       Back / Chest Piece          Traditional 
Horror Theme (1st)           Tattoo of the Day (1st) (fresh only)
   SUNDAY   
Best Anime (1st)      Bio-mechanical (1st)      Best Watercolor (1st)   Best Portrait (1st)
 Horror Theme (1st)     Tattoo of the Day (1st) (fresh only) 
*****    
  Best of Show (TATTOO OF DAY winners only apply)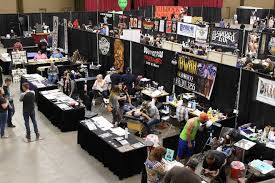 ( Tattoo / Piercer )
1-10 X 10 space with access to electric / 2 tables / 2 chairs / 1 trash receptacle /3 badges / 1 FREE pass
2-10X20  / 3-10X30 /4-10X40 / 5-10X50
(VENDOR GOODS & SERVICES) 
1-8X10 / 2-8X20 / 3-8X30
**ALL ARTISTS/VENDOR/STOREFRONT  PRICES BELOW ARE FOR ALL 3 Days
 **Check availability before paying if not already on the list** 
TATTOO /
PIERCER
1 BOOTH – $500 
2 BOOTHS – $950
3 BOOTHS – $1400 
4 BOOTHS – $1800
VENDOR /GOODS & SERVICES
1 BOOTH – $250 
2 BOOTHS – $450
3 BOOTHS – $700 
STORE FRONT ONLY
1 BOOTH – $200
 FOLLOW LINK FOR CONTRACT AND APPLICATION AND PAYMENT INFORMATION EMAIL ALL SIGNED FORMS    TO : cpatatexpo@gmail.com 
Enjoy staying at the property for the entire show and/or additional days to explore the area attractions nearby. We have a block of rooms at a discounted price, please click the link to book your stay.
Suites available upon request for additional charge notify HOTEL if interested, for booking details BE SURE TO TELL THEM YOU ARE IN THE BLOCK FOR THE EXPO.
               Harrisburg Airport -20 minutes        BWI Airport – 1hr 30 minutes 
                Hershey Park – 25 minutes                 Gettysburg – 45 minutes